---
previous brief ~
return to briefs index
~ next brief
---
IRM on the Web
In recent years the Illinois Railway Museum has steadily been expanding its facilities for disseminating news and information about progress at the museum on the Internet. The first outlet for this was the museum's website, www.irm.org, which since its earliest days has included news items on its homepage. Starting with a site redesign in 1997 there were links to news pages for different departments, but this was dependent on a large time commitment from the webmaster.
Over time it became clear that a decentralized approach to information dissemination would be preferable. In June 2000 that led one member to found an unofficial Yahoo mailing list devoted to IRM news that currently has over 500 members. Without any affiliation with IRM itself, though, this mailing list has an audience limited to those willing to go out of their way to find information about goings-on at IRM.
The next big development was the creation of a Members Photo Gallery feature on the IRM website in late 2006 which permitted active members to create an account and upload photos to the museum site. Linked to from the homepage, this has resulted in a tremendous increase in the number of images - both historical and current - that can be seen by the public. Many of these images have been of current events at IRM or of active restoration projects.
The most recent development followed from a post on the RyPN Interchange in February 2008 describing participatory "Web 2.0" publications like podcasts, wikis and blogs. This post prompted one IRM member to create an unofficial blog of his restoration activities in the museum's Electric Car Department.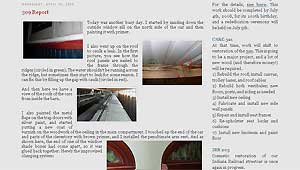 hickscarworks.blogspot.com features news updates including photos, as well as an index and overview feature to the right side of the page.
The software used for this blog was from the free "Blogger" Internet site, which offered a no-cost and advertisement-free option for creating a site for the dissemination of news about electric car restoration at IRM. This was made public in late February, at which time another IRM member started up a second unofficial blog covering restoration activities in the museum's Passenger Car Department.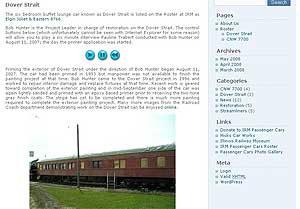 irmpassengercars.com includes a number of useful features including an ability to post photos and audio files as well as project-specific pages along with regular news updates.
This blog uses a unique domain name and has diverse features including clickable photos and audio files and unique project pages for some of the more active restoration projects. The shortcoming of these blogs, however, was their low visibility as they are unaffiliated with IRM itself and could not be linked to from the museum's homepage as a matter of museum policy. So the IRM webmaster built some blog software directly into the museum's website, a feature which began to see regular use in late March.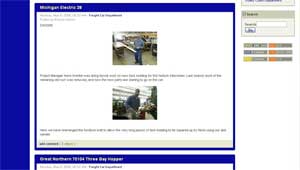 The IRM blog site has the ability to host numerous separate users, making updates from different departments possible, as well as photo hosting through the Members Photo Gallery.
By following a "Department Blogs" link from the IRM homepage, site visitors can now read in-depth and current information about happenings in several different areas of the museum's restoration efforts including Freight Car, Electric Car and Track departmental updates as well as project-specific news items. Photos posted to the already-existing Members Gallery can be included as well.
The result of all this activity is that there is far, far more information available online about news and current events at the Illinois Railway Museum than there was even six months ago. Through participatory and decentralized sources of news dissemination, IRM has significantly increased the amount of information that can be communicated online to interested parties. The hope is that, in addition to furthering the museum's educational mission, this will spur interest in the museum and prompt more people to consider a visit or a donation.