---
previous brief ~
return to briefs index
~ next brief
---
MSU and Elderhostel Create Railroad History Program
An Elderhostel program that combines education, trains and adventure will be held July 8-14.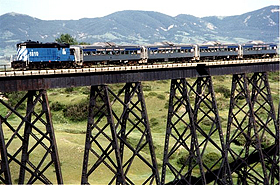 Railroad enthusiasts and Western history buffs can immerse themselves in a bygone era with classes and field trips through southern and central Montana. Photo courtesy of Lewistown Chamber of Commerce.
"Where the Rails Meet the Mountains," developed by Montana State University's Extended University and Elderhostel, a non-profit educational organization, originates in Bozeman with an overnight trip to central Montana. The custom-designed educational program will appeal to railroad enthusiasts and Western history buffs.
Classes, field trips and a dinner train ride will bring railway history to life, particularly that of Montana's railroads and the Milwaukee Road, one of the West's most appealing and controversial railways. The arrival and technological innovation of the Milwaukee Road's transcontinental line in the Northwest, along with its eventual failure and dismantling, made it a much-lamented operation in transportation history. Field trips include visits to a former Milwaukee operations base, historic downtown district, substations, a former depot, a museum and more.
The program is designed for adults 55 and over. Lodging, meals, transportation and field trips are included. Some moderate walking is required. This trip is ideal for Montanans who want to learn more about the state's past, as well as out-of-state visitors interested in railroad history. A commuter discount is available for Bozeman-area residents who do not need accommodations.
For more information, call Marilyn Jarvis, the MSU Elderhostel coordinator, at (406) 994-4820 or toll-free (866) 540-5660 or e-mail mjarvis@montana.edu.