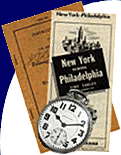 ---
previous brief ~
return to briefs index
~ next brief
---
WRM Grand Opening Celebration on May 3
Western Railway Museum Completes Its Largest-Ever Expansion
Western Railway Museum Completes Its Largest-Ever Expansion - the Loring C. Jensen Memorial Car House! Grand Opening Celebration on May 3, 2008.
On Saturday May 3, 2008, the Western Railway Museum invites the community to celebrate the grand opening of its newest display building, the Loring C. Jensen Memorial Car House. The 37,000 sq. ft. facility helps the Western Railway Museum permanently preserve its priceless collection of electric railway artifacts and interpret these artifacts for the public.
Celebration activities include tours of the new building and the 38 historic trains on display inside, train rides throughout the day, and an ice-cream social from 1pm - 4pm. Visitors on May 3 can also tour the Exhibit Hall, picnic in the Museum's spacious park, and shop in the museum store. Parking is free. Admission is just $10 for adults, $9 for seniors 65 years and older, and $7 for children 2 - 14.
The building is another major investment in the infrastructure of Solano County's most popular museum. It provides appropriate preservation of the core collection of electric railway equipment, and increased public accessibility to the collection.
Museum Chair Cameron Beach described the significance of the project, "It represents an investment in Solano County, in historic rail preservation, and in our future as a museum. By properly caring for our artifacts, we are now better able to tell the stories of electric railway transportation in the 20th and 21st centuries, especially how electric railways influenced our lives."
"Each artifact housed in the Jensen Memorial Car House tells a story: a story of our past, and a story of our future. By focusing on the tremendous and often overlooked influence electric trains had on how land was used for development, how our cities in California grew as a result of mass transit, and how our American notions of travel, place, work, and recreation changed, we can connect people to current-day issues such as energy consumption, sustainability, transportation, and land use."
Congresswoman Ellen Tauscher, member of the U.S. House of Representatives Transportation and Infrastructure Committee noted, "I feel it is very important to preserve the historical artifacts that show the history and progress of American railways. The Western Railway Museum's dedication to making these valuable historical pieces available to the public is truly commendable."
The Loring C. Jensen Memorial Car House is now complete after four years of construction and ten years of fundraising. Costing $2.5 million, this was the largest and most expensive project in the organization's sixty-year history. The community contributed over $2.15 million to the project, with the remaining $350,000 being funded by the Bay Area Electric Railroad Association. Major contributors included:
$645,000 The Estate of Loring C. Jensen (for who the facility is named)
$310,520 State of California Cultural and Historical Endowment
$137,500 The Allegheny Foundation
$110,000 Anonymous
$70,000 The Candelaria Fund
$26,000 Richard and Caroline Tower
$17,575 Chris A Pagni
$16,500 Bart Nadeau
$15,200 Fred Krock
$15,100 Robert Jeppesen
$15,000 20th Century Electric Railway Foundation
Additional corporate and foundation support was provided by:
$10,000 Brewster West Foundation
$10,000 The Lakeside Foundation
$10,000 Jelly Belly Candy Co.
$8,500 National Railway Historical Society
$5,000 Union Pacific Foundation
$2,500 Syar Foundation
$2,000 Rio Vista Lions Club
$2,000 Fairfield Host Lions Club
$1,200 Arcadia Publishing
$1,000 Associated Foundations Incorporated
$1,000 Anheuser-Busch
$1,000 Valero Benicia Refinery
$1,000 California Vegetable Specialties
The Western Railway Museum is located on California State Highway 12 in rural Solano County, midway between Interstate 80 and Rio Vista. For more information, call 707-374-2978 or visit www.wrm.org.