Reviewed by Dave Lathrop .:|:. Photos provided by Arcadia Publishing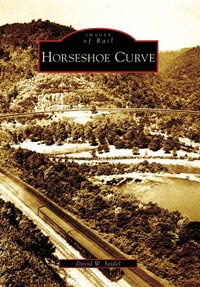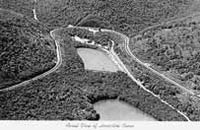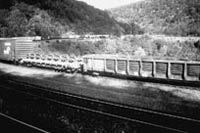 Author Seidel has been involved with the Railroader's Memorial Museum and the Altoona chapter NRHS, and has been a lifetime resident of Altoona. Arcadia provided a short interview with him along with the review copy. He produced the book hoping that his "condensed photographic history will make the reader want to know more and seek out that additional information in other publications or audio-visual resources."
The book is organized temporally and by corporate history. Two pages of text introduce the curve and briefly cover its history since 1854. The first chapter relates (in less than a page) the story of the Allegheny Portage Railway as a predecessor to the curve, followed by a couple pages of pictures of that site. 6 additional chapters follow: PRR, Penn Central, Conrail, Norfolk Southern, Amtrak, and the Horseshoe Curve NHS.
Every chapter begins with a minimal amount of contextual information as an introduction to many pages of captioned photos, usually two to a page. Given Seidel's mission of motivating readers towards greater research, the challenge in this book is doing so with a very narrow base of overwhelmingly pictorial subject matter. It seems likely that the vast majority of the photos included could not help but resemble each other to a considerable extent; this seems to unfortunately be the case, particularly in the post-dieselization era. I found myself eagerly viewing pictures of anything other than yet another train going around the curve after seeing the first several such shots.
On the other hand, within those constraints a pretty inclusive record of motive power in every livery that has operated over the line since photography became popular is included for those with that technical interest, and several panoramic and aerial views show subtle variations over time for those interested in civil engineering.
The question is, does that audience need motivation to pursue additional references, or are they already doing so relative to the casual reader, for whom the book seems to be intended?
There also seems to be frequent repetition of information in the captions, sometimes on the same or on facing pages. If the images are so similar that the captions are only slightly different, do all those similar images contribute to the mission or would a broader context of imagery, perhaps including Altoona and Juniata and the railroaders at work themselves, have told a more intriguing story?
My guess is yes – and I am prejudiced towards technical railroad history. If I found it repetitious, I can't imagine the reaction from somebody who doesn't know or care about whether a K4s or an I1 is that big smoky thing in the foreground.
So, for the Pennsy fan or anybody with a specific related interest, a fine collection of similar images from varying sources with a small scattering of related images peripheral to the curve itself. For the general reader, more than they want to see of what will appear to be the same few shots over and over with minor differences, and not enough context and information provided to make those differences meaningful.
This book is scheduled for release and sale on July 7, 2008 through local retailers and online booksellers, or directly from the publishers (www.arcadiapublishing.com) at a price of $19.99. Softbound, 127 pages.