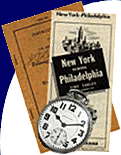 ---
previous editorial ~
return to editorials index
~ next editorial
---
Thoughts on Preservation
Big Plans at Fullerton - No Plans at Redondo
---
Recently while cruising the magic carpet that is the internet, I came back to the Fullerton Railway Plaza Association's page on the big www.trainweb.com site. Their plans for the Fullerton Railway Plaza have progressed a bit further, into the drawings/models stage, and have gotten good support from the community. Like many groups, they plan a railway museum developed around the local depot, "to enhance the city of Fullerton and provide an educational experience for our youth that is meaningful, interesting and fulfilling. It will host special programs, events rail tours, exhibitions and interactive displays. The plaza will create a new family oriented attraction in historic downtown Fullerton." The group plans to display steam and diesel motive power and passenger cars in a "simulated industrial shop environment" and provide facilities for visiting operational locomotives. Besides the exhibits, the new facility would provide meeting rooms and have room for some retail establishments within.

The models and drawings, all nicely done, depict different possibilities for the museum. One drawing shows a five-stall roundhouse and turntable. One model, apparently N-scale and built with commercial plastic structures and parts, shows a four-stall roundhouse, with a large brick backshop-like building connected to the back wall. Another model, presumably an alternate design, shows a modernistic rectangular structure with huge round windows. Yet another drawing shows a three-stall roundhouse built to a Santa Fe design typical of the road's smaller facilities, with a large shop-like structure behind.

The old Santa Fe depot at Fullerton has been restored, to serve Metrolink commuter trains and Amtrak. From the photos, it appears to be a stuccoed showpiece, and a credit to the community. New sidings are being installed nearby, to accommodate private railcars. The old UP depot is said to also exist across the tracks, restored as a restaurant. The city plans retail development and urban renewal nearby, including conversion of a street to a pedestrian mall.

With good support, thoughtful planning, and lots of enthusiasm for the project, what could possibly wrong with such a scenario? Unfortunately, like so many of our preservation efforts, it is based on fantasy, not history. In the later years of steam, at least to my knowledge, Fullerton never had a roundhouse, nor was it a terminal for the snorting 4-8-4s that passed through. Those engines tied up at the Redondo Junction roundhouse, twenty-odd miles away, in Los Angeles.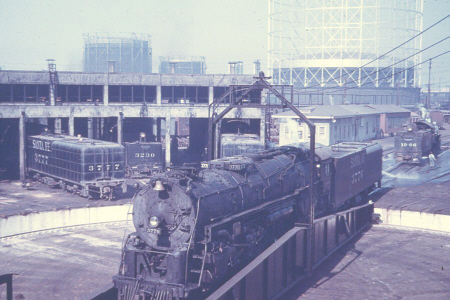 Despite several pleas for historic photos, of which many were taken in the steam era, this was the only one we could come up with, and we're not even sure if it is actually Redondo Junction. We came across it accidentally on the www.railfan.net ABPR files.
The old Redondo Jct. roundhouse still exists, and is, in fact, one of only two extant roundhouses of the Santa Fe. Of concrete construction, its turntable still functions and none of its 25 stalls have been removed - yet. Used and owned in recent years by Amtrak, most of its function has been replaced by a new Amtrak shop nearby, but units are still turned on the turntable. About a year ago, the San Bernardino Railroad Historical Society moved their big Santa Fe 4-8-4 there for storage, after losing covered shelter in their namesake city with the demolition of the huge San Bernardino shops complex. At long last, it seemed, the beautifully-restored Northern had a home that not only provided a roof, but was historically appropriate.
Used on the West Coast near the end of its working life, No. 3751 was based at Redondo, as was No. 3759, now displayed at Kingman, Arizona. The latter made the last official steam run out of LA with an excursion in 1955, and was the subject of well-known railfan movies and recordings. Thus, Redondo Jct. would seem the ideal place for a Santa Fe motive power museum - but so far no one has made a peep publicly that this should happen. Recent news indicates that time is quickly running out for the historic facility.
The SBRHS folks, who were given a large metal building from the San Bernardino complex, apparently still plan to re-erect it as a maintenance base/museum in their home city, to be someday covered with a brick facade. Their website says they've leased property near the San Bernardino station for that purpose. Perhaps they're holding quiet talks with Amtrak for the future of Redondo Jct., but if so, they're not saying. Their website still indicates that No. 3751 is in "temporary" storage at Redondo. Likewise, no mention is made of their locating anything at the proposed project in Fullerton.
Anyone who has seen some of the beautiful photos taken by Richard Steinheimer, Stan Kistler, and others at the Redondo roundhouse in the late-steam, early-diesel era should have some appreciation of what's being ignored here. Pentrex used to sell an impressive wide-angle shot taken there, showing several classes of steam and diesel power. Unlike the proposals for Fullerton and San Bernardino, Redondo is a REAL place, where railroading history happened. Considering that there are about 50 extant Santa Fe steam locomotives, plus numerous early diesels, it shouldn't be too hard to see the possibilities for creating a relatively authentic (there's that dirty word again!) Santa Fe motive power museum.
Would there be problems to solve? Certainly. The roundhouse is in an industrial area and public access would have to be controlled, but was indeed open to the public on May 1, 1999 for the Amtrak Open House. No. 3751 was a featured exhibit at the event, and apparently no visitors perished. No doubt there are numerous problems of oil, solvent and caustic pollution in the surrounding soil - but those have to be dealt with even if the building is demolished. Asbestos is probably present also - again, that has to be removed regardless of what happens. The roof probably leaks a bit, some windows are broken, some concrete needs patching, yadda, yadda, yadda.......... Interestingly, several pleas for historic photos of Redondo Jct. on the RyPN Interchange discussion list went unheeded, though numerous photos should be available, causing this writer to wonder if any of us really give a damn about saving historic rail sites at all.
We still marvel at the beautiful restoration done on No. 3751 by the dedicated volunteers of the SBRHS. They truly have brought the past to life. But the big plans for Fullerton and San Bernardino, however noble in intent, draw energy, interest and money away from the one that should be first on the list - Redondo Jct. According to a correspondent who works there, Amtrak's latest plan is said to call for demolition of 11 stalls of the roundhouse to make room for more passenger train servicing tracks - and bids have been taken for the demolition, now scheduled for early April 2000. The rest of the building is supposed to fall later. As the roundhouse is owned by Amtrak, it is thus our property as taxpayers and there might be some chance at saving it if enough noise were made by the appropriate parties. But first someone a lot closer to L.A. than me has to recognize the possibilities and speak out for it....... soon.
Taken by Amtrak shop employee Sam Pottinger, these aerial shots show the basic layout of the Redondo Jct. facility. A new Amtrak maintenance facility has been added nearby, and further development is scheduled to soon remove first 11 stalls, then all of the historic building. Sadly, nary a peep of complaint has been made by the rail preservation community about the planned destruction... (Sam Pottinger's Steel Rails West Website)