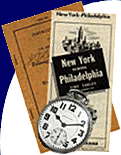 ---
previous editorial ~
return to editorials index
~ next editorial
---
Thoughts on Preservation
The Old Milwaukee Depot
This past spring and summer, I got to do something I had done very little of in many years - travel. The summer visit brought me to the Twin Cities, where a little free time could be spent catching up on railway preservation there. One enjoyable evening was spent with Aaron Isaacs, editor of the Association of Railway Museums' Railway Museum Quarterly and also Minnesota Transportation Museum's excellent Minnegazette magazine. The very active MTM group has successful projects at six locations, including two trolley operations, a steamboat, a roundhouse museum, a preserved depot in a park, and a steam train ride just across the line in Wisconsin.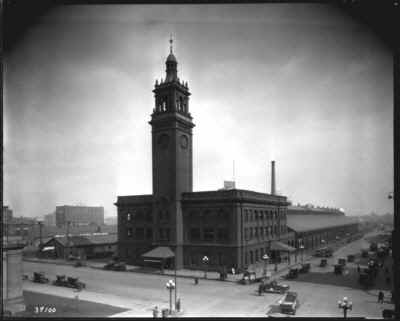 In addition to their splendid Como-Harriet trolley line and a good barbecue meal, Aaron took me to Minneapolis' old milling district downtown, once bustling with rail activity, now all gone. The Jim Hill stone arch bridge, across which passenger trains once roared toward the now-gone Great Northern depot, is today a paved bike path, with numerous signboards explaining its history. A one-stall enginehouse of the tiny Minneapolis Eastern switching railroad, refurbished as a restaurant on my last visit, is now abandoned and in poor shape, with a new apartment complex beside it.
But my biggest interest was nearby - The old Milwaukee Road depot, a stub-ended affair where even the 100 mph Hiawathas had to back slowly in to board passengers. Built in 1899, the relatively small edifice served the trains of the Soo Line and Rock Island in addition to the Milwaukee. With the coming of Amtrak, it was obviously outmoded. The national carrier utilized the Great Northern depot for a while in addition to the St. Paul Union Depot (SPUD) in the sister city, then abandoned both for the new Midway station between the two. SPUD was redeveloped for restaurants and mail storage, while the art deco GN facility was razed.
The Milwaukee depot languished on, housing company offices for a few more years before being sold during the railroad's tumultuous final years. Several private redevelopment plans came and went, and eventually the property ended up in the hands of the Resolution Trust Corporation, the federal agency set up to recover monies lost in the savings and loan scandal of the Bush Administration. Thankfully, the historic old structure survived. Within the last few years, the Minneapolis Community Development Agency has assumed control.
Restoration of the head house exterior is almost complete, with the cream-colored brick being cleaned and repointed and the big Milwaukee Road sign on the clock tower relighted at night. Further back, the brickwork of the baggage and express portion still needs work, and the huge iron trainshed sits untouched - in need of a new roof, but still sturdy. All tracks in the area have been gone for some time.
Work on the headhouse of the old Milwaukee Road depot in Minneapolis is coming along nicely, but typical of many commercial redevelopments, only marginal attention is being paid to its history in the process - photos by Scott R. Dondanville.
According to the MCDA's website, there are plans to fill the headhouse with a restaurant, offices, and a few hotel rooms. New extended-stay hotel buildings are to be built beside the depot as well. Plans to develop the trainshed into an enclosed skating rink have apparently fallen through. Close by, the old Milwaukee Road freight house, once a long platformed affair, has been considerably shortened, leaving little more than the headhouse, now in use as a coffee bar.
During the visit, I was struck by the fact that no one, apparently, has suggested the obvious "best and highest use" of the facility -- a railroad museum. Considering that major station redevelopments for retail purposes haven't fared well economically in recent years, (as in Indianapolis and St. Louis) due to fickle public shopping habits, why would it even be considered? Previous to the hotel/skating rink scheme, proposals included an agricultural museum and a $400 million casino, none of which had anything to do with the history of the building.
But suppose that a different avenue of thought were pursued - that the lobby and downstairs floors were simply restored to look as they once did, while the upstairs offices were renovated as professional or small corporate offices, to provide income. Back in the trainshed, re-lay some track and park some representative trains of the ones that used to call there. There are several extant Soo Line Pacifics, most just rusting away in the open, and a few passenger cars have survived from the road's maintenance-of-way fleet as well. The host Milwaukee Road didn't save many steam locomotives and none are really representative of their passenger power, but there are a number of the railroad's FP7s remaining, as well as several E units and many passenger cars. There are three remaining Rock Island 4-6-2s, only one of which seems destined for proper preservation, and all of the three coalburners were used on the Minneapolis run on occasion. The Rock Island Technical Society's website lists a number of extant RI passenger cars, in both standard and streamlined form. The Rock's remaining E6 and E8 diesels are spoken for and will operate elsewhere, but replica CRI&P FP7s, E8s or "passenger" F7s could be created from other units.
These items would have to be trucked in, of course, but that seems to be the norm these days, even for huge 4-8-4s. The would be no rail access, due to a previous highway expansion removing a bridge between the depot and live rails, but so long as proper space were left for loading and unloading, "landlocking" should not be a problem if an equipment exchange were later desired.
Such a redevelopment scheme would not hold the direct economic promise of a commercial/ retail adaptive reuse plan, but would not have the risk either. As an "urban cultural site" it would give the public a reason to visit the area, and patronize other nearby retail establishments. The depot itself may have once had a restaurant, which could be re-created. Certainly, our tax dollars are often spent on sillier ideas. And yes, a railroad museum on the site would be expensive, but over $3 million has been spent already just cleaning the place up, with a total projected development cost of $44 million.
Something that continually amazes me in railway preservation is a lack of vision -- that sends the old trains to new museums in cornfields while the structures that once served them are redeveloped for non-rail related functions - or lost to demolition. Thirty years ago, this was necessary, as the "real" structures were still in use and new museum sites had to be hacked out of the wilderness to prevent the equipment from being scrapped. But now some of the few "real" places that still exist can sometimes be had if the proper planning and connections are completed well in advance. Unfortunately, such suggestions often bring a litany of "it can't be dones" from those entrenched in rail preservation, and the historic sites get redeveloped inappropriately -- or lost.
Certainly we'd all like to see all of the historic trains running again, but let's face it; all of that derelict equipment sitting around will not survive unless it gains some sort of a purpose. For most of it, being cosmetically restored to be sheltered under an authentic trainshed is about as good as we can expect.
And cosmetic restorations need not be entirely lifeless either. Restored inside and out, passenger trains can be opened for walk-through tours, with volunteer interpreters in period costumes. Highlight of the visit might be a visit to the engine cab, where the bell, whistle and brakes might be operated with compressed air. Diesels might even be operated back-and-forth on a short stretch of track, perhaps as part of an engineer-for-an-hour program.
Will any of this happen in Minneapolis? Probably not, unless someone takes the bait and begins making suggestions to the parties involved. The folks at MTM have their hands full already with their current projects, and can't really take on more. Plans get harder to change the further they go along, but for the old Milwaukee depot, the physical side of things have not progressed far enough to prevent the aforementioned ideas from becoming reality.
So what's your take on this issue? I can't wait to hear all the "it can't be dones".