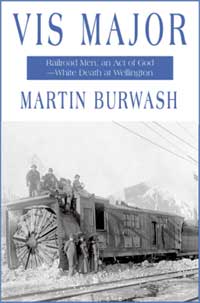 This is story of men and of their epic battle. The men are railroaders of the Great Northern Railroad; the battle is with an unprecedented snowstorm in Washington's high Cascade Mountains. Through the author, the reader grows to know these men too.
One hundred years ago (March 1, 1910) the tiny railroad town of Wellington, at the west portal of the original Cascade Tunnel, was struck by a massive avalanche during an unrelenting snowstorm. Two passenger trains and other cars and equipment, stranded in the tiny railroad yard, were swept away at the cost of ninety-six lives.
The story of the Wellington disaster has been a lifetime passion of the author who has grown to know many of the key railroad men well through his research. He has also grown to know the territory through many photographic journeys to the area. Well enough to tell the story, in their own words, thoughts and actions. The reader also grows to know and care about these men, their unrelenting efforts, deprivations, agony, fate and the grief among the survivors. Despite super human efforts, tragedy struck. Many of the men are listed in the epilogue as "killed".
This is a well researched fictionalized account, of actual events leading up to the massive avalanche at Wellington. Fiction only in that the story is told through the eyes, words and thoughts of several key railroad employees. As the story unfolded, I found myself caring enough to refer to the epilogue repeatedly, hoping to find that man listed as "survived". The last evening I couldn't put the book down until I had finished. At the end, I felt a sense of loss (both for the men and because I couldn't go on reading).