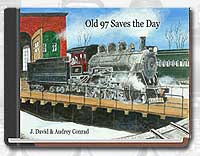 J.David Conrad, for those who don't know, was the author of The Steam Locomotive Directory of North America, a virtual bible for those interested in the topic. He is also the Chief Mechanical Officer of the Valley Railroad and has been involved in steam locomotive restoration for over 40 years. This time his efforts have produced a different type of work, a children's book.
Old 97 Saves the Day is a Christmas story, and the locomotive in the story is based on a real engine, in this case the Valley Railroad's 2-8-0 No. 97, which the author maintains.
The story begins as two children wandering in the woods find rusty railroad tracks and follow them to an abandoned roundhouse. Peeking through a broken window, they see an old locomotive inside, but are soon surprised by a white-bearded man in greasy overalls who invites them inside for a look around.
The man turns out to be Santa Claus, who enlists their help to get back to the North Pole after his reindeer ran away with his sleigh. Under Santa's instructions, they help perform boiler repairs, fire Old 97 up and chug down the track before lifting into the clouds to visit the North Pole. With Santa safely back at his home base, the children operate the engine back down to the roundhouse and try to find others to help with its maintenance.
The 27-page paperback is illustrated by Gretchen Hatfield and developed from a story by James A.H. Hatfield. The book is available from the Valley Railroad gift shop for $12.00 plus shipping and handling at: valley.railroad@snet.net or by phone: 860-767-0103.