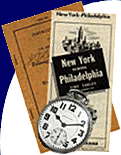 ---
previous article ~
return to articles index
~ next article
---
Smorgasbord of Steam (Lazy Susan Style)
Part 1: Dahuichang Narrow Gauge
It was just my first day in China, and we had also visited the Echo Model Shop and China Rail Publishing House, and had a wonderful meal at lunchtime, in spite of the horrific Beijing traffic. While I've always gone it alone in the past, this steam locomotive adventure was a completely different, deluxe to the max approach, and our guide and driver made sure that we had no worries or problems for our entire two week trip.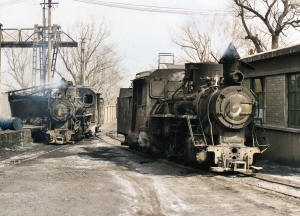 This line was double tracked, with two engines shuffling back and forth over what was at most a mile of country style narrow gauge. Because of the convenient location on the edge of the capital city, busy weekday afternoon operating scheme, and convenient access, this was one of the best known steam operations in modern day China. At the time of my visit, the plan was to continue for a few more years, and two locomotives were to go to Sujiatun for rebuilding. Latest reports are that the line closed in mid summer, but has not been scrapped, and that it is possible to rent a train for a reasonable cost. No doubt many more besides myself are grieving for Dahuichang, and would love to see this small piece of Chinese history preserved as some kind of park or museum.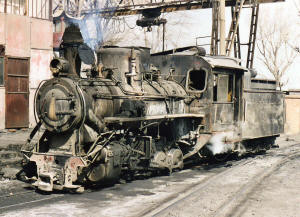 Modern vestibule cab C2 engines resemble Polish designs, and were pretty good sized for their 30" gauge and 21" drivers. Most days two engines were in use, providing constant action. Recent reports indicate that at least one engine has been repaired and/or repainted, and that she has been offered for sale. The best source I have for up to date reports, for not only Dahuichang but Chinese steam as well, is the German website QJ Country. You can be sure that many contributors to that site know much more about Chinese steam than I do.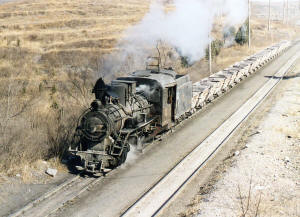 A typical string of empties on this very busy line, which usually made no more smoke than this. While I don't have the specifics, it only took a dab of coal each trip to get the empties up the hill, and none to get the loads back down. That looks pretty efficient to me, and I suspect that many present day steam users in China have no enthusiasm at all for speculating on oil futures.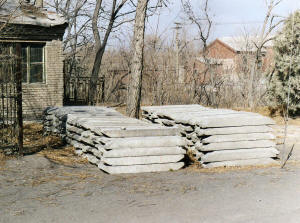 Laid with concrete ties, the track held up amazingly well under merciless pounding. Now these replacement ties will probably be used as doorstops.....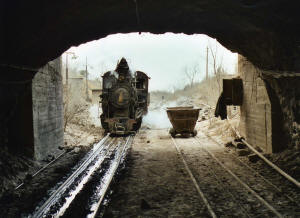 I visited on a beautiful spring afternoon, but no doubt the limestone loader located inside this tunnel, under the quarry, was a real Hell hole in a good roaring blizzard, or one of those giant Chinese dust storms.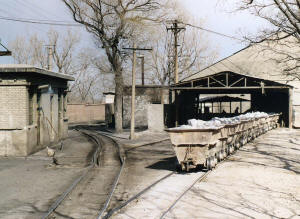 At the bottom of the hill, loaded rock wagons are cut off on the fly in front of the rotary car dumper shed, with the engine escaping through the crossover to the uphill track located behind the railroad office at left. Link and pin couplers were used with no train brakes. The loads were held back by the engine coming down the hill, and stopped for unloading by a field man shoving bars between the wheel spokes of the rock wagons.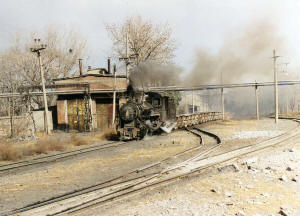 I have almost no information about this line, but I wonder if it could have been bigger at one time. Certainly this substantial enginehouse with overhead crane and large wheel press located outside gives one the impression that this was a serious operation in it's day. What would appear to be a turn of the century American railroad was probably built in the 50's, and still going pretty strong in March of this year.
The steam experiences were served to us Lazy Susan style, just like most of the fancy meals we had, and they were plentiful and genuine like the food was. Right after dinner, we caught one of the modern overnight sleeper trains operated by China Rail to the city of Shenyang. It would be another article all by itself to describe the modern rail empire of China, but I'll just say that it was a very comfortable, clean and magical ride. Although I also enjoyed a cold Harbin beer, and was quite impressed with the smart looking China Rail uniformed lady car attendant, the best part of this journey was seeing a hot and very tidy SY class 2-8-2 from our sleeper window as we pulled into Shenyang. She sparkled in the fresh light of sunrise as she waited for an inbound cut of coal cars at the power plant where she works.
Part 2: Sujiatun
Part 3: Tiefa
Part 4: JiTong
Part 5: Yuanbaoshan
Part 6: Chengde