---
previous editorial ~
return to editorials index
~ next editorial
---
Rethinking Adaptive Reuse, or, How Not to Save a Great Urban Terminal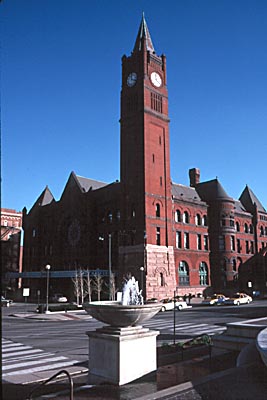 Indianapolis Union Station's shuttered and mothballed 1888 headhouse, November 2000.
When it comes to adaptive reuse, call me a booster. I've always looked with favor on proposals to transform abandoned or decaying railroad sites--especially large urban stations--into new, multi-user facilities. Such projects can be controversial in our railway preservation community; RyPN's own Editor Bob Yarger has questioned the value of such efforts many times in these pages. Adaptations involve substantial and permanent loss of historic fabric. Also lost can be any connection to railroading as a living industry and mode of transportation. Even so, I for one have long felt that these projects give more than they take by returning the pulse of life to great urban railroad terminals. Concourses again handle throngs of visitors, just as they are intended to do, and the stations are restored to their proper place as vital community centers.
Or so I thought. However, the ignominious failure of such a project as the Indianapolis Union Station has me questioning my former views.
Completed in 1888, Indianapolis Union Station was one of the earliest attempts by a major American city to unite the passenger and express freight services of several competing railroad companies in a single convenient downtown terminal. The headhouse and its barrel-vaulted Main Waiting Room are among the best surviving examples of the Romanesque Revival style of the late 1800s (sometimes called Richardsonian Romanesque, for its main advocate and practitioner, H.H. Richardson). The Historic American Buildings Survey praises the designer's skillful use of brick and granite in combination, and hails the building as "one of the finest large-scale public spaces in the city."
In its original form, Union Station possessed a large iron trainshed at street level. By the early 1900s, the surface-level train traffic was getting seriously entangled with growing vehicle traffic in the downtown area. The solution was to create an extensive new grade-separated right-of-way through downtown. As part of this project, the original iron train shed was replaced with a new, larger, poured concrete shed in 1916-1922. The new shed offered 12 through passenger and two stub freight and express tracks. It's this combination of 1888 headhouse with 1922 trainshed which survives today.
During the 1960s and 1970s, Indianapolis Union Station suffered from the same pattern of deferred maintenance and slow decline common to most of the great urban terminals. By 1979 the building had become a municipal eyesore, decrepit, largely vacant, and served by only a handful of trains a day. Then the city government stepped in. Inspired by the success of festival marketplace projects in Boston's Faneuil Hall area and Baltimore's Inner Harbor, the city decided to try its hand at a similar adaptive reuse project for Union Station.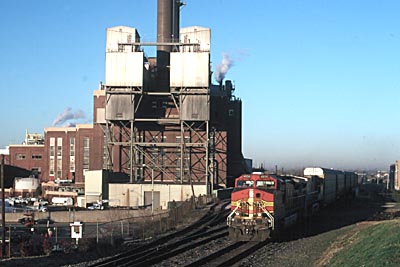 Active freight rail traffic was one factor to be considered in the Indianapolis project; here a CSX train with BNSF run-through power passes the power plant immediately west of the station.
Step one was relocating active rail traffic out of the facility. Though Amtrak passenger schedules had withered to a skeleton service, the right-of-way through the station remained a major freight artery for Conrail. The active railroad lines were relocated to a modern, high-clearance train shed grafted onto to the South side of the 1922 concrete structure, with Amtrak operations relocated to a small waiting room--really more like a bus terminal--below the new shed section.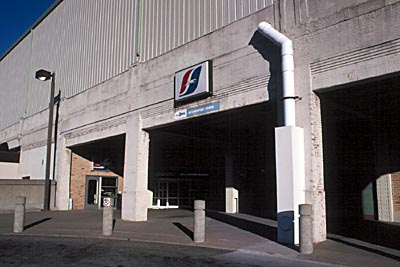 Amtrak's unattractive and unwelcoming bus-station like facility on the rear side of the complex, under the new high-clearance trainshed.
Freed from active traffic, the 1913-1920s trainshed was now available for redevelopment. Seven years and $50 million later, the renovated Union Station opened its doors in 1986. The fine 1888 headhouse became the grand entrance to the complex, housing an upscale restaurant on the former concourse floor. The eastern half of the shed became a festival marketplace, with specialty stores, bars, and a food court, while the western half was converted into a hotel, with new room modules built in the area occupied by most of the old tracks. Four tracks at the north and south ends were retained, and stocked with old heavyweight Pullmans, which were gutted to the shell and rebuilt with completely new interiors containing two rooms each. Though dressed up in inauthentic colors and lettering, the cars did at least broadly recreate the sightlines and overall images one might have seen along platforms in the 1920s or 1930s.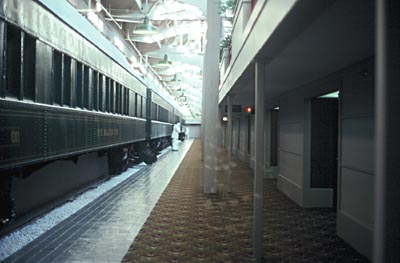 Looking down Track 3 past the heavyweight Pullmans, hollowed out and converted to rooms in the Crowne Plaza.
When I visited Indianapolis for the first time in 1991, the project seemed a triumph. The headhouse itself was wonderfully refurbished, with sunbeams shining again through the great rose windows down onto the polished waiting room floor. Glass windows in the festival marketplace portion offered a view through to the active tracks, tying the station's present to its past. The revitalized station became my nightly destination during my two-week stay in town.
Returning to Indianapolis this past winter, I was shocked by the change that greeted me. I had heard rumblings that the project had fallen on hard times, but I was still unprepared for the magnitude of the failure. Faced with declining patronage and continued high maintenance costs, city officials had shuttered the mall venture in 1996. Since then, the city has scrambled to find paying tenants for the various parts of the property. The festival marketplace had been torn out, replaced by (of all things) a go-kart track, where executives on corporate retreats drive tiny scooter cars around an Indy-style racetrack. The hotel is still in business, now in operation as a Crowne Plaza. Saddest of all, the lovely 1888 headhouse is essentially vacant, reduced to intermittent use as a ballroom floor for special events at the hotel. When not in use for an event, the building is locked, shuttered, and empty again.
What lay behind this failure? Several factors apparently came into play:
1. Size. Dividing the trainshed into two sections--the marketplace and the hotel--may have been a major strategic mistake. The 50% of the trainshed devoted to the marketplace and mall may seem like a large area, but it paled in size compared to any suburban mall. The result was a mall which did not have a wide enough range of tenants and activities to attract repeat business. Likewise, the hotel itself was not large by the standards of contemporary convention facilities, and was particularly light on meeting rooms and ballrooms in its original configuration.
2. "Pioneer Effect." Union Station itself made it safe to think about reinvesting in downtown, and it ultimately did spark a revitalization boom on the South side which has since become self-sustaining. However, as the pioneer project, the Station mall had to be able to go it alone until additional redevelopment and new attractions moved into the area. With its small size and limited selection of merchants, it proved not to have the staying power to wait for the turnaround to gain momentum.
3. Competition. As patronage at Union Station fell off in the early 1990s, the city threw its backing behind a still-more-ambitious adaptive reuse and downtown revitalization project one block north--the $319.5 million Circle Centre mall. In this massive project, developers and the city hollowed out two full city blocks, preserving only the facades of the original 4- and 5-story brick-and-stone commercial structures. Inside, they fabricated a completely new suburban-style mall behind the facades of the old buildings. The ground floor spaces facing the sidewalk became restaurants and bars, with the shopping concentrated in a standard arcade-style 3-level mall and movie theaters inside. Circle Centre's advent spelled Union Station's doom--there was no way for the smaller, decade-old project to compete with the (admittedly more thorough and better planned) new development.
So, what conclusions can we draw from Indianapolis Union Station's disappointing failure, as well as the collapse of a similar festival marketplace project in Cincinnati's magnificent Art Deco Union Terminal? I'll tentatively draw some, and invite your comments on the Interchange.
ONE: Stations are at their best when serving as stations.

A lot of my own former enthusiasm for adaptive reuse derived from my reluctant conviction that the great city stations could no longer serve as viable transportation hubs. However, the commuter rail and light rail booms of the 1990s have turned all those assumptions on their head. Rail is returning in a big way, sometimes in the most unlikely of places--like greater Los Angeles. Right now, the former Los Angeles Union Passenger Terminal (now LA Union Station) sees more daily train movements than it did in its so-called glory years, without even counting light-rail and subway traffic. The station is thriving doing exactly what it was intended to do--as are Washington DC's Union Station (Amtrak, commuter rail and heavy rail Metro subway) San Diego's Santa Fe station (Amtrak, light rail and commuter rail) and many others.

TWO: Station shopping malls and festival marketplaces do best when the station is also still a station.

A shopping mall or festival marketplace can be a valuable addition to a station which retains its transit function. In Washington DC, commuters and long-distance train riders provide a ready base of patronage for the festival marketplace. Even St. Louis, which is predominantly a mall and hotel complex, retains a transportation function as a node on the city's light-rail line. Direct light-rail transportation to the airport and downtown contributes materially to keeping the hotel and mall viable.

THREE: Where transit use is not viable, consider noncommercial uses rather than festival marketplaces (and think three times before concluding that transit use is not viable!).

Railroad station conversions into civic or other nonprofit uses are, on the whole, faring better than festival marketplaces. Museum conversions--usually to science centers and children's museums rather than railroad history museums--seem to do especially well. Richmond, VA's Broad Street Station has fared very well for two decades now as the Virginia Museum of Science, and a similar project has rescued Cincinnati Union Terminal after its failure as a commercial marketplace. It's too early to judge the major new Museum project in Kansas City, but initial numbers of visitors are encouraging. Looking further afield, a former railroad station has become a spectacular museum of art at the Musée d'Orsay in Paris.

By contrast, festival marketplace projects are running into trouble not just in converted railroad stations, but everywhere. Even Baltimore's signature Harborplace, which along with Boston's Fanueil Hall was one of the poster-children for the movement, its currently facing declining margins and increased vacancy rates. As shoppers gravitate more and more towards "category-killers" like Best Buy and Wal Mart, even full-scale suburban malls are encountering tough competition. For festival marketplaces, with their smaller size and more restricted merchant selection, the odds of attracting time- and price-conscious consumers are getting more and more daunting. These projects are still attracting passers-by in search of quality urban space and walking recreation, but they no longer attract the hard-core shoppers--in short, the "festival" component of the equation is working, but the "marketplace" component is not.

FOUR: When all else fails, consider a railroad museum.

If science museums and childrens' museums work, why not try something really radical like a railroad history museum? In Duluth, MN, the Lake Superior Railroad Museum has thrived for decades as a tenant in the former Duluth Union Station. The building is under public ownership, and the Railroad Museum shares space in the headhouse with a Children's Museum and other area heritage and educational organizations. The Railroad Museum has the trainshed to itself as the perfect, correct, weather-protected display venue for its rolling stock and large artifacts. A similar retired-urban-station museum with a train-shed exhibit hall works very well in Utrecht in the Netherlands.

To be sure, railroad history groups are not in a position to serve as the lead partners in such projects. No railroad preservation organization is going to come up with the funds to buy, renovate and maintain a great city station on its own. But such a group can make an outstanding tenant for a city which is going to be investing in reuse of its railroad station for civic purposes in any event. One wonders where Indianapolis would be if it had used the 50% of the trainshed that it converted to a marketplace to offer a home for the Indiana Transportation Museum collection currently stored in Noblesville. Both the Museum and the City might have received a mutually reinvigorating shot-in-the-arm from such an arrangement. Instead, the Station is shuttered, while the ITM collection remains at its out-of-the way and inadequate site in suburban Noblesville
So after two decades as a booster of the festival marketplace/railroad station conversion proposition, I'm throwing in the towel. For cities considering the future of their great railroad buildings, I'd recommend careful consideration of a revitalized transit purpose first, conversion to a museum or other civic use such as a courthouse or city/county office building second, and conversion to a commercial marketplace last if at all.
I invite your thoughts, comments, and other examples of how to do it and how NOT to do it on the Interchange.