Carl Franz and Bill Lardusky .:|:. All photos used with permission of the JOHN HELMSTETTER FARM FUND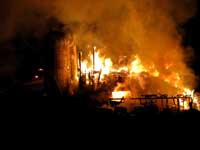 Following the July 12th fire that destroyed the historic barn at Helmstetters Curve near Cumberland, MD, many people have asked - "How can we help our friend, John Helmstetter?"
Friends of John Helmstetter have established the JOHN HELMSTETTER FARM FUND to serve as a central point for collecting donations and organizing fund-raising events to aid John in getting back on his feet. His surviving cattle need shelter and food, and John lost many pieces of equipment in the fire. He was burned in an unsuccessful effort to save his some of his livestock and his best friend, Teddy, his black-and-white border collie. You can show your appreciation for John's past efforts of supporting the railfan community by:
Buying a ticket on the Helmstetter Farm Fund November 9, Photo Freight Charter
Buying a signed copy of one of our Farm Fund Photos
Making a check or credit card donation to the John Helmstetter Farm Fund
Purchase a copy of the DVD - "Photo Freight" featuring WM 734
100% of the proceeds of these efforts go to the John Helmstetter Farm Fund
Go to our web site: http://www.helmstetterfarm.org to purchase a train ticket, a photo, a DVD or to make a donation. (Note: the web site will be modified shortly to include additional photos and the DVD)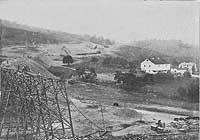 Helmstetter Curve and the John Helmstetter farm were the centerpiece of many classic photos of Western Maryland steam. More recently, fans have headed to this Cumberland landmark to photograph "Mountain Thunder" tourist trains or participate in more than 50 photo freight charters. John Helmstetter has been an integral part of the success of these efforts by providing complete access to his land and buildings and allowing us to remove large trees and brush from his land to return the curve to its 1940's appearance. He has also helped us to create great photo locations by using his tractor and brush hog to manicure the railroad right-of-way. In other words, all we had to do was ask John, and it was done.
Highlight of the 734 Steam Photo Freight Special, November 9, 2009
John Helmstetter will be the guest of honor on the train
Numerous stops along the Western Maryland Scenic Railroad, including Helmstetter's Curve
Limited capacity due to available space at photo locations
Photo locations will be trimmed of brush
Numbered, commemorative tickets will be issued
The Western Maryland Scenic Railroad is operating the train at a very reduced rate as its contribution to John
Trip departs Cumberland, MD for Frostburg at 8:00 AM; returns about 5:00PM
A trip flier with motel data, food options, etc., will be available shortly.
PURCHASE A SEAT TODAY, THIS TRIP IS SELLING OUT VERY QUICKLY!
Questions or Additional Information:
Call Steve Barry at 973-383-3355; or e-mail him at: steveb@railfan.com
Call Carl Franz at 240-720-8686; or e-mail him at: cmfrr@aol.com