Mike Overlander .:|:. All photos used with permission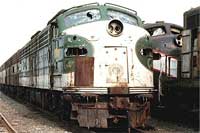 Like all stories, this one should start at the beginning. Here, the beginning is in 1953, about 5 years before I set eyes on this planet, let alone a train. The place is the erecting floor of a famous mid-western city, LaGrange, Illinois. Production that year included order 2063A9, which became a sleek E8 for passenger service in the employ of the Southern Railway as locomotive #6914.
Now, fast-forward around 34 years, and this locomotive faced permanent retirement after working for a few more owners and traveling many miles. In a photo by Tony Krslovic taken in 1987, we see the condition of our queen of the rails at retirement by NJ Transit.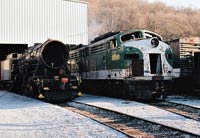 As you can see, more than a few of these locomotives face an uncertain future.
It so happens that during its working life, a group of determined and dedicated people started a railroad museum in the sizeable city of Chattanooga, Tennessee, served by the Southern Railway. So when a few its members (also before my museum membership) heard of its retirement, TVRM, along with members Sam Frissell and Tim Andrews joined forces and arranged for the purchase of 6914, resulting in its repatriation from New Jersey. Here is a photo from October 1989 by TVRM member Steve Freer, at the TVRM shops, and you can note the smoke coming from the idling locomotive.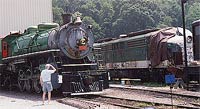 And here is a photo I took in the summer of 1991, also at the TVRM shop, where some restoration work is being performed.
This is where and when its restoration began, and where it continues today. However, while you can look at the calendar and clearly see that 20 years have elapsed since its arrival, it has not always been a story of daily, weekly, or monthly progress on its restoration. I can only make observations of the results to those who put time and efforts into the rework process over the first 14 years or so. Such observations include removal of the steam heat components, the entire 24RL brake system, front sand boxes, cab floor, seats, side windows, installation of new windshields, and some attempts to repair electrical systems. Moving rearward, the engine room had been pressure washed and spray painted, leaving much of the obvious surfaces looking nearly new. But a lot of dirt and grime remained in the more hidden areas, as well as wear and age damage yet to be tackled. In the steam generator room, the side sheets were long ago removed, and some of the damaged supports for them were replaced. In fact, around half of the side sheets had been removed, most along the lower row on both sides. In addition, all of the interior doors were removed and stored.
So that brings us to the end of part 1, nearly a half century from its beginning, essentially as a short overview of how this project arrived at the point of a renewed interest in its completion. We have before us a 70 foot, 325,000 lb treasure or monster, depending on your point of view, awaiting a second chance at life. As many others will attest, it is so easy to look at such a project and say if we just do this or that, it will not be too hard to recondition a locomotive. However, the devil is always in the details, as I hope to explore later. Part 2 will begin as the project gains traction once again, and will bring us up to its current state of affairs. I'd like to thank the following for their help in providing information: Mark Ray, Tim Andrews, Andy Hendee.