---
previous brief ~
return to briefs index
~ next brief
---
Veteran Railroad Engineer And Steam Engine Expert J.R. Phillips Dead At Age 88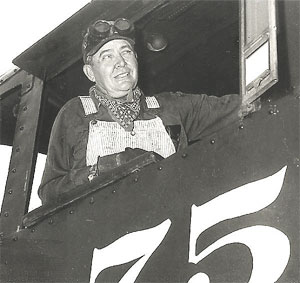 J.R. Phillips - forever young and at the throttle - in the cab of SR No. 750 at the L&N Siebert Yards in Mobile, AL, during the 1970s. Photo by Louis Zadnichek II
Mr. James Richard "J.R." Phillips, a long time resident of Eight Mile, Alabama, died Sunday, February 24, 2008, in a local hospital from complications of a stroke. Born May 16, 1919 at Forest, Mississippi, Mr. Phillips was age 88. He was a veteran railroad man.
Mr. Phillips was introduced to railroading as an infant by his father Huey Adolph Phillips who was a locomotive engineer for the Mengel Hardwood Lumber Co. in Mississippi. At age four, Mr. Phillips had learned to blow a steam whistle while standing on a seatbox in the cab of his father's logging engine. Thus began a lifelong love affair with trains.
At age 14, Mr. Phillips was tending sawmill boilers and at age 21 became his father's fireman on log trains operating over Gulf, Mobile & Northern tracks between Merrill and Laurel, MS. Mr. Phillips also learned how to operate, maintain and repair steam engines during his formative years.
In the early 1940s, Mr. Phillips became a brakeman on the Michigan Central. Then, in January 1943, Mr. Phillips went to work as a fireman for the Alabama, Tennessee & Northern Railway. Four months later, he joined the Louisville & Nashville as a fireman and worked on the Mobile Division up until being laid off in 1946.
For the next nine years, Mr. Phillips fired and ran steam engines for the Southern Pacific, Texas & Pacific, Kansas City Southern, Gulf Mobile & Ohio and Southern during times he was laid off by the L&N. Finally, by 1955 Mr. Phillips had enough seniority to hold a regular run over the L&N. He was promoted to engineer in 1958 and joined the Brotherhood of Locomotive Engineers Division 140, Mobile, AL, holding continuous membership up until his death.
Mr. Phillips operated both freight and passenger trains between Mobile and New Orleans, Los Angeles, including the famous Pan American and Humming Bird streamliners. He also ran Amtrak's Gulf Coast Limited during the 1984 World's Fair. At the time of his retirement on August 31, 1985 from the Seaboard System, now CSX, Mr. Phillips was number one in seniority and the last steam qualified engineer on the Mobile Division.
In the 1970s, Mr. Phillips ran several SR passenger excursion trains over L&N tracks with steam engines 4501, 722, 750 and 2839. During his 52 year railroad career, Mr. Phillips was involved in only one minor derailment and was never injured.
Following his retirement, Mr. Phillips was a consultant to railroad museums across the US in operating and repairing steam engines. At the time of his death Mr. Phillips was consulting with the Alger-Sullivan Historical Society, Century, Florida, in restoring their steam engine No. 100 to operation. Mr. Phillips and two partners had originally purchased this historic logging engine in 1974 to save it from being scrapped. He overhauled the No. 100 in Mobile and it participated in the Alabama Bicentennial Celebration in 1976. Mr. Phillips and his partners later sold the engine to a tourist railroad in Indiana where Mr. Phillips then operated it on many vacations. He had been looking forward to running his beloved No. 100 again.
Mr. Phillips was a Mason and a long time member of the National Railway Historical Society. He will be long remembered for his vast knowledge of steam engines and railroading. Mr. Phillips is survived by his wife Helen Mae Phillips of Satsuma, AL, children and grandchildren.
Services are by Valhalla Memorial Funeral Home and Gardens, Inc., 8730 Sims Road, Eight Mile, AL 36613, phone (251) 649-1111. Visitation will be Wednesday, February 27, 2008 from 5 to 8 p.m. The funeral will be Thursday, February 28, 2008 at 11 a.m. Interment follows in the Gardens. Memorials may be made in Mr. Phillips' name to the Alger-Sullivan Historical Society, P.O. Box 1002, Century, FL 32535 for restoring his No. 100 to operation.
Cards and Emailed condolences can be sent to the Phillips Family care/of J.R.'s son Rick Phillips, 8550 Lott Road, Wilmer, AL 36587, Email address < robinretd@aol.com >. The following verse adapted years ago by Mr. Phillips from an early 1900s railroad poem of the same name is a fitting testament to his long and fruitful life on the rails:
AN OLD HOGHEAD'S LAST REQUEST
By J.R. Phillips, L&N Hogger
When I depart from the initial terminal,
I would like to play them all a beautiful sound,
On my favorite whistle,
Just to let them know who's on the head end,
And in control.
And when I get this this train on it's way,
And it begins to swing and sway,
I will sign my name the usual way,
With my whistle painting beautiful sound pictures,
like an artist with a brush.
There is no need to rush,
I heard someone say,
I wish he would hush,
But I am headed for the Promised Land,
And that is where I will make by final terminal delay,
For I am not coming back this way.
A hoghead of his deathbed lay,
His life was ebbing fast away,
His friends around closely presses,
To heed the hogger's last request.
He said, "Before you lay me down to rest,
I would like to relive some of the things,
I did do all a new,
Before I make this final run,
All for fun.
Just hook me on to ninety cars,
Oh, let me on that engine there,
Just see how rough I handle air,
Make a big hole stop and give a yank,
Then from the corner of my eye,
I'll watch the pieces as they fly,
Then I'll calmly, softly set me down,
And watch the dust clouds round.
Oh, let me pull a drawbar out,
And take my can with its long spount,
And get me down upon the ground,
And take my time to oil around,
Then far behind in that red caboose,
I'll hear the conductor turning loose,
A few pet names as in day of youth,
I've heard a thousand times before.
Oh, just once more before I'm dead,
Let me stand the conductor on his head,
Let me see him crawl from beneath the wreck,
With a window shash around his neck.
And you dear friends, I'll have to thank,
If you'll let me die at the water tank,
Within my ears that familiar sound,
Of the tallowpot pulling the tank spout down.
Oh, let the train with drawbar down,
Have all the crossings blocked in town,
And when they chain those cars together,
I hope it will be in sloppy weather.
And when at last in the grave I'm laid,
Let it be in the cool of the water tank shade,
And put within my lifeless hand,
A monkey wrench and an old oil can,
A marble slab I do not crave,
Just mark the head of my lonely grave,
With a drawbar pointing toward the skies,
Showing the spot where this hogger lies.
Then fainter drew the hogger's tone,
His friends around him began to groan,
His mind was wandering far away,
Perhaps to some other bygone day,
When he as a hogger of great reknown,
was turning cabooses upside town.
Perhaps his mind was wandering back,
To a drawbar close beside the track,
When he was trying to start the train,
And was doing his best to brake the chain.
Then his face lit-up in joyful light,
And his soul prepared to take its flight.
His friends call to him in sad refrain,
He smiled and said, "I've broken the chain,"
Then closing his eyes he said no more,
The hogger was doubling the hill to the further shore.
- - - -
J.R. will be deeply missed by everyone who loves steam engines and railroading. J.R.'s stroke was the only obstacle in his long life that he finally wasn't able to work around on either side, under or over through his sheer will power, focus and hard labor. He was the most determined man I've ever known.
With most sincere condolences, his friend of many years and partner in the No. 100,
Louis Zadnichek II
Fairhope, AL