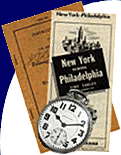 ---
previous brief ~
return to briefs index
~ next brief
---
NPE Coach Seats Sold Out
12/7/07 3:30 PM OWOSSO, MICH:  All Coach seats for the Steam Railroading Institute's North Pole Express are now sold out. Due to overwhelming demand, the Steam Railroading Institute added an additional trip to our previous sold out NPE schedule for 2007 on December 14th @ 4 PM, a first for the organization. This trip went on sale on December 1st at 7:15 PM, and as of today, December 7 @ 12:20 PM, all 300 coach tickets @ $65 for adults, and $35 for children are now sold out. The five days it took to sell out this trip represents a record for any previous excursions held by the Institute.
Thanks to a wonderful article in the Chicago Sun Times over Thanksgiving weekend, many of these sales were to those from the Chicago, Illinois area and its suburbs, as well as Northern Indiana and Western Michigan. Given the current state of Michigan's economy, the boost to our tourism business in Shiawassee County is greatly appreciated! Running steam locomotives is an expensive business --- it costs nearly $10,000 a day to run our signature locomotive, Pere Marquette #1225. We thank all of those who have paid to ride behind the #1225 this year --- you have quite literally helped us to keep it running this year.
This was the last remaining chance for 2007 to ride the North Pole Express and no further trips will be added. The only seating option that remains is for our cabooses, but they too are going fast, and are $1000 a piece, and seat either 10 or 12 people depending on caboose. Again, all of the remaining coach seats for the original NPE dates of December 8th, 9th, 15th and 16th at 10 AM and 4PM are sold out.
Due to overwhelming request and demand, we will be launching our ticket sales for the North Pole Express for 2008 starting in mid-January. Tickets for our other 2008 events, include three weekends of "Your Hand-on the Throttle", and at least two other mainline trips behind #1225 in June, July and October will begin soon there after, and may be purchased online at www.michigansteamtrain.com, or www.mstrp.com, and clicking on the TICKETS ONLINE function, or by calling the Institute at (989) 725-9464. In addition, the Steam Railroading Institute will be closed December 18th - January 5th, to give our volunteers a well deserved rest!