---
previous brief ~
return to briefs index
~ next brief
---
Yosemite Valley 330 Restoration
The Last of the Glass
We'll call it the end of an era. Linda Schulz, the intrepid glass stacker extraordinaire has completed the last stained glass panel for the Yosemite Valley 330 Observation Car. To give scope to what an accomplishment this truly is, consider one of the vertical sections with a white leaf at each end. Each one of these sections is composed of 8 pieces of glass, and 13 individually fit pieces of lead trim and 12 solder joints. When you figure that Linda knocked out 12 of these windows, as well as 3 bathroom windows, one of which is visible just behind her, it is a phenomenal feat. Linda will be recovering from her burn for a while!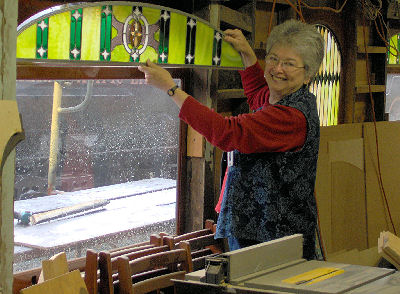 Linda Schulz with the last stained glass panel for YV 330. Photos by Wes Swift.
In the second picture, a rainy day vignette, she is handing off the last piece to a stunned Wes Swift. The rear deck is smartly flanked by an original pair of marker lamps from the Yosemite Valley Railroad. At one point these hung from the same brackets while tourists and presidents road the rails to the park. Helga Rose is loaning these to us for the Centennial run in May marking 100 years since the railroad opened. In addition, she has donated another pair of marker lamps permanently to the car. Another item of note in the photo is the nearly complete right side of the car. In particular the trim on the windows is 2 windows short of completion. The only visible window not complete is the one just to the right of the marker lamp.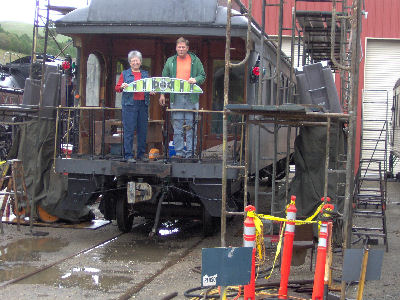 Like the cavalry in a John Wayne movie, volunteers rode to the rescue. At one point during the work session, we had 6 people working on various parts of the project. Even Linda's better half Roger got into the act, crawling underneath the car to drill and install cotter pins on our completed brake system, while Dave Lion was sanding trim (and also completed an outlet box under the rear deck), and Dick Taylor and John from Golden Gate RR Museum were doing woodworking projects, while one of the track crew was helping drill and bend steel for brake support pulleys.
* * * * * * * * * *