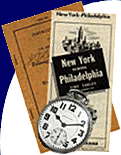 ---
previous brief ~
return to briefs index
~ next brief
---
Railroad Collection Available for Research





The Blackhawk Chapter of the National Railway Historical Society is pleased to announce that the archives vault of the Will County Historical Society (WCHS) in Lockport, Illinois is now open and available to railroad historians and researchers.

Known for their extensive documents relating to the Illinois & Michigan Canal, the WCHS also has an interesting collection of original documents and photographs of Will County's 19th-century railroads.

For example: a copy of the charter of the Rock Island and La Salle Rail Road Company, as amended in 1851 with the name changed to the Chicago and Rock Island Rail Road Company. Also, an original, handwritten and signed letter from Henry Farnum, president of the Chicago & Rock Island Rail Road Company dated June 17, 1858 to William Gooding of the I&M canal regarding the deed of property in La Salle.

There are hundreds of early documents and photos of the Rock Island, Alton, EJ&E, Santa Fe and more.

The WCHS welcomes serious railroad history researchers and will accommodate individuals interested in viewing these items. For contact information, researchers should visit the WCHS website at this link.