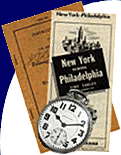 ---
previous brief ~
return to briefs index
~ next brief
---
Book Review:
"Santa Fe Steam Survivors" by Lloyd E. Stagner, South Platte Press, David City, Nebraska, $19.95
Lloyd Stagner, a career railroad employee, is well known for his numerous books on steam locomotives. The prolific author, now over 80, has recently written this paperback volume on the remaining steam locomotives from his longtime employer, the Atchison, Topeka & Sante Fe. Beginning with freight station clerical positions in 1942, he retired as the supervisory freight agent in Dodge City, Kansas in 1979 and now lives in Newton, Kansas.
The Santa Fe was generous in donating locomotives to on line cities and museums, and over 50 engines still survive. The book gives full listings of the survivors and their specifications, with photos from various eras of nearly all of them. Remaining wheel arrangements range from 0-4-0 to 2-10-4, with the 2-6-2 and 2-8-0 wheel arrangements predominating. Sixteen Prairie types and fourteen Consolidations survive, in conditions from pristine to embarrassing.

Notably missing in wheel arrangements are the 4-4-0, 2-6-0, 4-6-0 and 4-8-0, all of which were gone by around WWII, plus the huge articulateds which the Santa Fe disposed of early, with some being divided into two locomotives. Three types that survived into the early 1950s but were not saved were the attractive 4-4-2s and 4-8-2s, and 0-8-0 switchers. Only one of the early 2-10-2s that bore the company's name as its wheel arrangement was saved, long a display in a park at Bartlesville, Oklahoma.

There are many historic photos, valuable in showing that the sad derelicts of today were once actually active revenue producers, plus others depicting their existance over the decades as static reminders of the past. A good proportion of the engines have had the asbestos lagging removed, with most losing the boiler jackets and a few other parts in the process. For the more numerous wheel arrangements, it appears at least one or more examples still has an intact jacket, which could ease the pattern making process should a full cosmetic restoration be attempted on the others.

Only two Santa Fe steam locomotives have been returned to full operation since the road's last steam runs in 1957, with the
well-known 4-8-4 3751 being most prominent and still operable, plus the 1316, a 4-6-2 displayed for many years at San Angelo, Texas and operated until recent years at the Texas State Railroad, with another number applied.

Two of the 2-8-0s are notable as excellent examples of cosmetic restoration, including the 132, an 1880 antique that was given a full and expensive return to its original appearance after donation to the Kansas Museum of History in Topeka (and subject of its own South Platte Press book, previously reviewed here). The other is the 870, a 1906 Baldwin sold in
1940 to the Albuquerque & Cerrillos Coal Company. Long derelict outside the mine at Madrid, New Mexico, it was acquired in the late-1980s by the City of Santa Fe Springs, California and given a thorough makeover by locomotive restorer Stan Garner.

Mention is given to three other engines that were lost in the Kaw River floods of 1951. These fell into the swollen river when one of the spans was washed away, and never recovered. The entire bridge had been weighted down with dead locomotives in an attempt to keep it intact. Lost were 2-6-2 1035, 2-8-2 3167 and 2-8-2 4076. In 1956, the river was very low, so Santa Fe sent men down from the nearby Topeka Shops to burn off what was sticking up out of the mud, but one of the 2-8-2s was not found and presumably remains intact there.

This writer was asked to provide a brief summary of what can be done to reverse the condition of derelict display locomotives, and that (with most of the information previously obtained from steam guru J.D. Conrad) forms the last chapter of this inexpensive but valuable book. Ordering information may be found on the South Platte Press website.