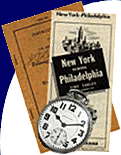 ---
previous brief ~
return to briefs index
~ next brief
---
Book Review:
"The Work of the Railway Carman" by Edmond Hogan
Orange Empire Railway Museum announces the latest addition in a continuing series of reprints of significant works from the American railway industry. "The Work of the Railway Carman" by Edmond Hogan, provides a unique glimpse into the day to day activities of the carman at the beginning of the 1920s. The book notes that at the time there were 2.6 million railcars in operation in the United States (in 2005 there were approximately half that number), the vast majority of which were freight cars. Although steel and steel-framed cars were by this time the standard for new orders, there were still 806,000 freight cars in service which were of primarily wooden construction. The carman thus needed a working knowledge of both wood and steel car construction and repair, and so the book covers this interesting transition period between the wood and the steel car. The book also provides a unique insight into the working conditions of the day, and the detailed explanations of the various jobs provide frank descriptions of the inherent dangers the carman could expect to face in 1921.
The 201 page book includes over 60 pictures and diagrams, and several large fold-outs. Chapters cover freight and passenger car repair work in great detail, including a wide range of related topics from rivet removal to painting and lettering. The book retails for $19.95, and is available by mail order from the Museum. Also available is the 1892 classic "Railway Car Construction" by Voss, reprinted in 2000. Sales of these reprints directly benefit the continuing preservation efforts of the Orange Empire Railway Museum. Visit the Museum online at this link. For mail orders, contact the Museum during regular business hours at (951) 943-3020.