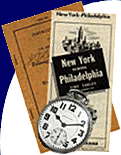 ---
return to briefs index
~ next brief
---
Pacific Electric 1624
Probably every railway museum has a list of "unfinished" projects- things which for one reason or another got started but were never completed. It's always nice to see one of those projects take some major steps towards completion. Pacific Electric locomotive 1624 is one of those projects at Orange Empire, and so it was good to see the locomotive moving again under its own power earlier this month after a silence of ten years.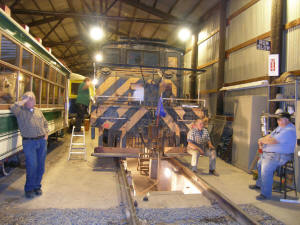 Nighttime at Perris finds a mixture of reminiscing and actual work taking place on the 1624. All photos by John Smatlak.
The 1624 was built by Pacific Electric's own Torrance Shops in 1924, and, together with sister locomotive 1622, closed out electrified freight operations on the PE in 1958. It arrived at OERM in 1960, and was used regularly until being sidelined by a major failure of one of its two dynamotor compressors (like many pieces of PE equipment, 1624 was capable of both 600 and 1200 volt operation). Not wanting to cause further problems, the locomotive was set aside and used only occasionally until 1995 when some volunteers got started on a project to bring it back to life. By this time, all of the locomotive's wooden roof boards were pretty well shot, and things like the very heavy pneumatic trolley base were no longer holding on very well.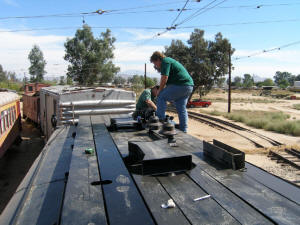 Work on the roof boards nearing completion in October 2005.
In 1995, all of the old roof boards were stripped off, the roof surface needle-gunned and painted, new roof boards fabricated and installed, and the trolley apparatus partially reassembled. And that's about how it sat until earlier this year when a new group of volunteers took on the task of getting everything going again.
Unfortunately, ten years outside in the famous Perris climate (meaning the baking sun) had done a number on the new ash roof boards, and so the first job was to replace two of them and then to sand, repair (using Abatron) and repaint the "new" boards. Then came a new wooden fuse box, new wire cleats, and many hours work to create the new wiring harness. The original solder type connectors were carefully unsoldered from the original cable and soldered onto the new wiring. All of the rooftop devices and new cable were finally installed by late November and the time finally came to put power on the old girl once again.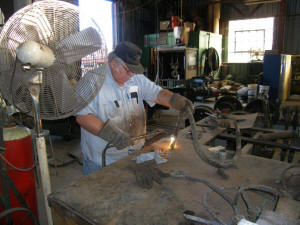 Dave Garcia at work unsoldering some very large connectors from the old rooftop wiring harness.
Not wanting to try and attempt to just run the locomotive after it had sat for so long, it was towed over to the pit track in Carhouse Two. After everything was opened up, it was discovered that one of the GE 251 traction motors had a brush holder removed, and another motor had a commutator that had become severely fouled with what appeared to be oily dirt. Work began on cleaning the comm almost immediately. Lacquer thinner and ultra-fine Scotchbrite pads dissolved the stuff pretty effectively, and a slot scrapping tool was then used to carefully remove any remaining gunk in the slots. The removed brush holder was located in the cab, and found to contain broken springs. Fortunately, new brush holder springs had been made up ten years ago during the previous round of work, and so the brush holder was soon back in its correct place inside the motor.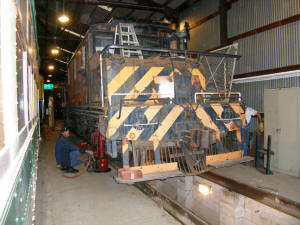 Preparing to lift one end of the 1624 so that the center bearings can be greased. This was the maiden voyage for the 75 ton air jacks, which were rebuilt by the Diesel Service crew last year in anticipation of the upcoming job to lift SP 1006 off of its trucks.
The locomotive also received a complete check of all lubricants. We knew the center bearings were likely to be dry, so with help from our friends in Diesel Service, two of their 75 ton air jacks were brought over to the carhouse and were just the trick for lifting one end at a time clear of the center bearings. Sure enough, the center bearing at one end was completely dry, and the other end was getting there. A fresh batch of "Uncle Dave's Patented Recipe for Center Bearings," which is a mixture of traction motor gear lubricant (a.k.a. "crater" compound) and journal oil, was applied to each center plate, and the side bearings were lubed with Slip Plate dry graphite grease. Some cleanup and lubrication was also performed on the brake rigging. All bearing oil levels were also checked and topped off.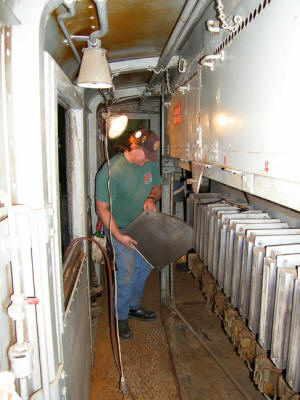 Brian McLaughlin reinstalling an arc chute after inspecting yet another contactor.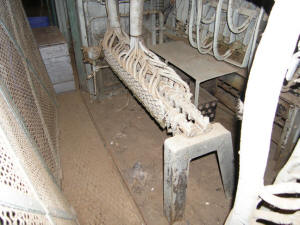 The massive series parallel drum inside the cab. This and other devices are usually hard to see because they are normally enclosed inside a big wire cage. The cage pieces were temporarily removed to facilitate the inspection work.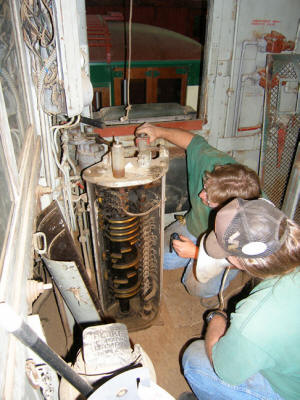 Checking the controller fingers.
Inside the locomotive, all of the contactors and switches were cleaned and inspected, and things were generally found to be in good health. A valiant attempt was also made to install two replacement canvas ventilating bellows on the traction motors, but the openings in the new canvas proved to be too small. These will need to have a slightly larger piece (or perhaps and elastic section?) sewn on to the ends to make them work.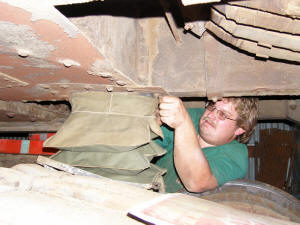 Jason Shoemaker wrestles with one of the new canvas bellows, which is used to force ventilate the traction motors. The bellows (which had been made new several decades ago) ended up needing a little modification in order to fit.
Finally, on Sunday, December 4, the locomotive moved under its own power. It performed quite well, excepting its pneumatic trolley base which insisted on leaking air and not doing much to keep the pole on the wire. After screwing around with it for a while (including letting the pole off the wire intentionally to try and get the mechanism to go into "retrieve"), we gave up and just allowed it to run with only spring tension holding it against the wire (the PE pneumatic trolley base is equipped with a spring that is only intended to allow you to raise the pole to the wire in order to get the compressor pumping and make air for the pneumatic function to take over for normal operation). Several trips around the Carhouse Two yard were made as night fell, and everyone enjoyed seeing 1624 out and about again.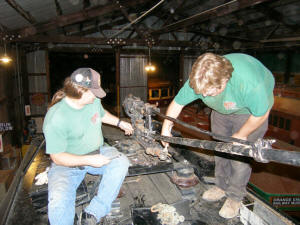 Brian McLaughlin and Jason Shoemaker wrestle with some final adjustments on the PE pneumatic trolley base on top of 1624.
More maintenance work on 1624 will continue in the weeks and months ahead, with lots of little leaks and sticking things to chase down. Also on the hit list are the aforementioned dynamotor / compressor units, (one has a dead motor and melted resistors, and the other has a bit of a knock). It's also good to know that 1624 (and some 65 other cars and locomotives including all of our PE passenger equipment) will finally have an indoor home once the Carhouse Seven project is completed. Congratulations to project managers Jason Shoemaker and Brian McLaughlin for a job well done, and stay tuned for further updates.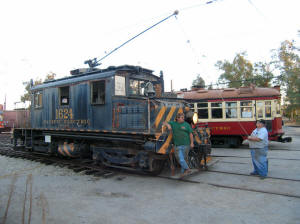 Back in action at last. Jason Shoemaker relaxes while Dave Garcia ponders the leaking trolley base on the roof. Much more work lies ahead, but it's sure great to see the old girl out and about once again.