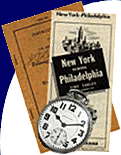 ---
previous article ~
return to articles index
~ next article
---
Rockhill Trolley Museum Car #172 Returns to Service
At the turn of the twentieth century, trolley cars could be found roaming the streets of many American cities. Among the most common type of trolley car of this generation was the "Semi-Convertible" car, a style patented by and generally attributed to the J.G. Brill Company of Philadelphia, PA. The term "Semi-Convertible" referred to the window style used on these cars, a type that could be opened all the way to the roof thanks to a window frame design which included pockets in the roof. This gave the cars an open air effect, yet was much less costly for transit companies to operate as opposed to separate fleets of open and closed cars, or labor-intensive convertible cars with removable sides.

A century later, only a small handful of original J.G. Brill Semi-Convertible cars exist worldwide. Two of the very few remaining Brill Semi-Convertible cars are treasured vehicles in the current collection of the Rockhill Trolley Museum (RTM). Car #249 is a 1904 Brill Semi-Convertible from Oporto, Portugal and Car #710 is from the nearby Harrisburg (PA) Railway Company. Car #249 regularly hauls museum visitors to this day and celebrated its 100th birthday in 2004.
Semi-Convertible cars #249 and #172 at the Rockhill Trolley Museum. Photo by Joel Salomon, all rights reserved.
A third and equally treasured Semi-Convertible car is part of the Rockhill collection as well. Car #172 was built to J.G. Brill's Semi-Convertible design by the Sociedade de Transportes Colectivos do Porto (STCP) of Oporto, Portugal in 1929. This car is virtually identical, externally, to J.G. Brill built Semi-Convertible cars constructed around 1900. The interior, however, features beautiful, hand-carved, wooden trim fabricated by the skilled shop forces of the STCP when the car was originally constructed. Furthermore, the car is much narrower than a similar American streetcar of the same vintage due to the narrow streets of its native city. As a result, the car has a unique seating arrangement, with two rows of seats on one side, and a single row on the other.
J.G. Brill Builders Photo of car identical to #172. Photo from collection of RTY, Inc, all rights reserved.
Sister car #154 in service in Oporto. Photo from collection of RTY, Inc, all rights reserved.
Construction of cars in company shops to Semi-Convertible designs was not uncommon in several European cities. Along with Oporto, Lisbon also constructed a fleet of Semi-Convertible cars in its own shops. Several of these cars, beautifully restored, operate on the island of Mallorca at the present time.
Ex-Lisbon Semi-Convertible cars in Soller, Mallorca. Photo by Matt Nawn, all rights reserved.
Thanks to the efforts of the Rockhill Trolley Museum, trolley enthusiasts do not need to travel to exotic foreign lands to experience a ride on a single truck Semi-Convertible car. Museum volunteers knew that virtually no single truck Semi-Convertible cars still existed in the United States, much less Pennsylvania, by the late 1960s. However, they did become aware of Oporto's fleet of home-built cars constructed to Brill patterns, and sought to acquire one of these cars for its fledging museum. Their efforts proved worthwhile, and in 1967 Oporto car #172 was acquired and shipped to the United States by sea. The car was shipped to the port of Philadelphia and then traveled by truck to the Museum, where it became an immediate favorite with visitors. The car was not unlike the "Toonerville" trolley thanks to its bouncy ride and diminutive size.
#172 operates on a cold winter's day in 1971. Collection of RTY, Inc, all rights reserved.
Car #172 provided many faithful years of service at Rockhill, much to the delight of the visiting public. In 1984, the car was cosmetically restored and repainted red and white, the paint scheme it wears to this day. By the late 1990s, however, it was clear the car needed major mechanical work. In 1998, the car was taken out of regular service for motor repair and other major mechanical work after more than three decades of public operation at RTM.
#172 is celebrated following its cosmetic restoration in 1985. Collection of RTY, Inc, all rights reserved.
Initially, #172 entered RTM's Buehler Shop for overhaul of one of its traction motors, as well as replacement of the "bull" or driving gear on the same axle, which was worn out as well. However, once work started on #172, it became clear that much more mechanical work would be required. Along with the motor work, a crack was discovered in one of the axles, and it became apparent that all four wheels were worn to the point where replacement was advisable. Thus, the project to rewind a traction motor and replace a worn driving gear grew to a full mechanical restoration.

Work progressed slowly on #172 in 2000, 2001, and 2002 as much of the available volunteer labor worked to complete the Blacklog Narrows Track Extension, the largest expansion project in RTM's history. Work did continue on fabrication of new wheels and renewal of the worn out traction motor. As the track extension project began to wind down, the pace of work on #172 picked up as more labor became available. A very generous donation from a museum director and his family enabled the wheel and truck work to be completed by an outside contractor.
#172 makes the trip by highway to Lyons Industries. Photo by Chuck Kumpas, all rights reserved.
In 2003, museum volunteers loaded #172 for shipment to Lyons Industries in Ebensburg, PA, where new wheels (fabricated by McKees Rocks Forging) would be installed, new axles fabricated and installed, bearings repacked, and the truck reassembled. While the car was onsite at Lyons Industries for this work, dedicated museum volunteers replaced all of the brake piping and managed the work performed by Lyons.
Disassembled truck from car #172. Tod Prowell photo, all rights reserved.
A Rockhill volunteer performs Quality Assurance. Paul Ganter photo, all rights reserved.
Following completion of the work at Lyons Industries, #172 was again loaded on a flatbed trailer and shipped back to the RTM for unloading, final assembly, and testing. Much work still remained when #172 arrived back at Rockhill Furnace. The brake piping needed to be completed, steps needed to be repaired and reinstalled, and test operation performed and evaluated. After many years of hard work, #172 returned to public operation at Rockhill Trolley Museum during the summer of 2004 and is planned to be in operation for the entire 2005 operating season.
While there was no formal ceremony celebrating the return of #172 to service, the satisfaction felt by all whom contributed to this important project, and most importantly, the smiles on the faces of the visiting public as they enjoyed a bouncy ride on this classic trolley car, made it very clear that this project was a success of which the volunteers of the RTM could be justifiably proud of.
Rockhill volunteers install new step treads on #172. Paul Ganter photo, all rights reserved.
#172 on a test trip to Blacklog Narrows. Joel Salomon photo, all rights reserved.
The return of car #172 to public operation would not have been possible without the extraordinary contributions of several dedicated RTM volunteers. Paul Ganter managed the project from conception to completion, and without his persistence, dedication, and technical prowess the project may have never been completed. Phil Glass provided valuable technical advice throughout the project. Last, and certainly not least, a generous donation by Tod and Janet Prowell made the project financially feasible. Along with the efforts of these individuals, many other RTM volunteers provided much needed assistance with tasks such as loading and unloading, new brake piping, and even mundane tasks like painting the floor. Collectively, their efforts ensured that future generations will experience a ride on a unique single truck semi-convertible car for years to come.