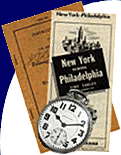 ---
previous brief ~
return to briefs index
~ next brief
---
Amherst Railway Society Announces 2006 Grants
Since 1991 the Amherst Railway Society has made yearly grants to non-profit organizations and museums. These grants are made possible with the proceeds from the society's Annual Big Railroad Hobby Show. Over $300,000 has been donated to further railroad related projects throughout the country. At his year's Annual Meeting on June 20th, 2006, society members approved 25 grants totaling $29,900.

Receiving grants for repair and restoration of buildings were the Berkshire Scenic Railway Museum, Friends the Cumbres & Toltec Scenic Railroad, Friends of the East Broad Top Railroad, the Shelburne Falls Trolley Museum, the Western Connecticut Chapter of the National Railway Historical Society and the Windsor Locks Preservation Association.

Funds for locomotive repair and restoration were awarded to the Flying Yankee Restoration Group, the Lackawanna & Wyoming Valley Chapter of the National Railway Historical Society, Maine Narrow Gauge Railroad Co. & Museum, Seashore Trolley Museum and the Railroad Museum of New England.

Awards for equipment restoration were made to Boothbay Railway Village, Central New York Chapter of the National Railway Historical Society, the Chester Foundation, Danbury Railway Museum, DownEast Rail and the Old Colony & Fall River Railroad Museum.

The Boston Street Railway Association, Branford Electric Railway Association, the Connecticut Trolley Museum and the Rockhill Trolley Museum received funding for trolley car restoration projects.

Grants were also awarded to Friends of Bedford Depot Park, Connecticut Eastern Chapter of the National Railway Historical Society, Friends of the Keystone Arches and the Wiscasset, Waterville & Farmington Railway Museum.

For further information on the grant program contact the society at AmherstRail@comcast.net or write to Amherst Railway Society, PO Box 718, Warren, MA 01083-0718. Additional information on the society and its programs can be found at www.AmherstRail.org.