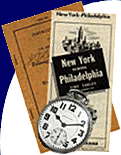 ---
previous brief ~
return to briefs index
~ next brief
---
Obituary: Fred Perry
Frederick James Perry, 67, a resident of Kennebunk, Maine passed away unexpectedly on April 17, 2006. Born in Boston, Mass., on Sept. 11, 1938, the son of Frederick and Anne J. (MacDonald) Perry. He graduated from Boston Trade High School , Class of 1957.
Fred had a great many friends in the transit field across the United States, in Canada as well as England and Europe. He was active in the transit industry both as an employee and as a hobby. (He also had many close friends who had nothing to do with transit whatsoever.)
Fred had been a mover and shaker at the Seashore Trolley Museum since 1955 and also was active at many other railway and trolley museums across the US. He was employed either directly by or as a contractor/consultant to the transit systems in St. Louis, MO, Memphis, TN, Houston, TX, Little Rock, AK, Tampa, FL, Kenosha, WI, and the Keokuk Junction Railway in Keokuk, IA. He also volunteered at the Illinois Railway Museum in Union, IL, the New York Museum of Transportation in Henrietta, NY, the Shelburne Falls Trolley Museum in Shelburne Falls, MA, The Midwest Old Threshers (trolley operation) in Mt. Pleasant, IA and the St. Louis County Museum of Transportation in St. Louis, MO as well as places I've probably forgotten about. His talents were considerable and wide-ranging.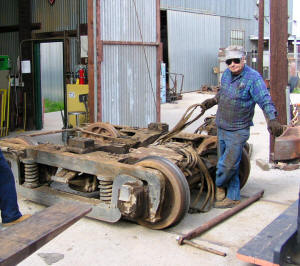 Picture of Fred at the Orange Empire Railway Museum in January 2004 helping with disassembly of the first truck for Hollywood Car 717. Fred had visited Perris on numerous occasions, also working on the trucks for Bamberger "Bullet" 127. He helped with the modification and assembly of truck #2 for car 127, which had a bent side frame that he straightened and a cracked truck bolster that he welded up. Fred was also instrumental in helping OERM round up parts for the project back in Maine and Philadelphia. Photo by John Smatlak.
A memorial service was held in the visitor's center at Seashore Trolley Museum on May 6 in Fred's memory, and the place was packed to the rafters with his many friends.
As a memorial to Fred the family has asked that donations be made to the Seashore Trolley Museum expressly for the York Utilities Co. car Number 88 restoration fund. Car Number 88 which was built by the Wason Manufacturing Company of Springfield, MA and last ran in Sanford, ME, had long been one of Fred's favorites.
Sympathy cards to Fred's family may be sent to the following:
His son Chris Perry is at, 169 Log Cabin Rd., Kennebunkport, ME, 04046. His son Eric is at, 12 Jusam Way, Cumberland, ME, 04021. His brother Tom is at, 4 Autumn Dr., Mashpee, MA 02649 and his former wife and still good friend Karen is at, 72 Gorham Rd. #202, Scarborough, ME, 04074.