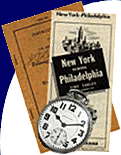 ---
previous brief ~
return to briefs index
~ next brief
---
2 Books Reviews
Singing Rails
by Dale Pierce, Alternative Publishing Company, 2005, list price $5.95, staple-bound paper quarto, 48 pages

Wild West Characters
by Dale Pierce, Golden West Publishers, 1991, list price $6.95, paperback, 142 pages

Singing Rails contains 39 pages of black and white photos, mostly occupying the top of the page, with paragraph length captions below. The quality of the photography and reproduction ranges from OK to terrible. The captions are frequently rife with misstatements (the C.P. Huntington was not an 0-4-0 or 4-4-0), or long lists of cities served by railroads which bear no relevance to the photo on the page. I was amazed at the inclusion of several photos of tracks on the ground with no buildings or equipment visible. There were many typographical errors as well. This is the sort of book one might expect to receive from well-meaning non railfan relatives, but you'll wish they had never seen it once you do.

Wild West Characters contains an alphabetically arranged series of one-page thumbnail histories of people whose geographic locations range between Arkansas and California and who achieved notoriety, of one sort or another, primarily in the latter half of the 19th century. Most pages have either a photo or ink sketch of the individual, but one page has a caption and no graphic.

The quality of information is generally superior to that provided in Singing Rails, and may whet the appetite to do some deeper reading about Western American history in all its color. One wishes the author had perhaps done a more in-depth series of books organized on subcategories, such as gunfighters, mountainmen, lawmen, etc. with more detailed information in each, since Characters contains much common repetitive information in the biographical sketches.

I hate to review books I can't recommend since so few are offered to RyPN, and this doesn't exactly encourage authors to submit more. But, the best I can do is offer a qualified recommendation of Characters as a sort of beginners' guide to old westerners, with acceptable bang for the few bucks it costs. Singing Rails, on the other hand, is singularly deficient in conception, design, and production regardless of price. Look for it in your stocking next December 25th........
* * * * * * * * * *
Dale Pierce also has 3 novels and a book about death to his credits.