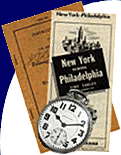 ---
previous brief ~
return to briefs index
~ next brief
---
Volunteer Open House at Pennsylvania Trolley Museum
The Pennsylvania Trolley Museum (PTM) is proud to announce a Volunteer Open House on Saturday March 4th at 10am. Prospective volunteers are invited to come learn about the many volunteer opportunities the museum offers which will take approximately 2 hours or less, and includes a tour of the Museum.
Volunteer opportunities include:
Archives - Assist PTM Archivist in cataloging and care of archive material.
Docent - Conduct museum tours. Training and uniform are required.
Education - Assist with school tours. Docents and Operators needed.
Equipment - Help repair and maintain the museum's locomotives, forklifts, cranes, and similar equipment. Experience with mechanical repairs a plus!
Grounds - Assist in maintaining the museum grounds.
Museum Store - Greet our visitors, sell tickets, and merchandise, answer telephones.
Publicity - Help with the marketing by distributing flyers, getting the word out.
Power and Signal - Assist in construction and maintenance of the overhead wire and signal systems.
Professional Services - Assist in accounting, engineering, legal, building design and construction management.
Special Events - Assist with decorating or setting up the grounds before events, help park cars, sell tickets, assist visitors etc.
Trolley Car Maintenance and Restoration - Assist in the restoration and maintenance of our trolley car fleet.
Trolley Operator - Operate our cars over the trolley line. Uniform, training, and voting membership are required.
Way and Track - Assist in construction of new track and maintenance of our existing track.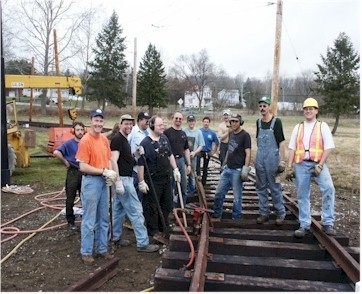 Volunteers pose during a work session at the McClane loop on March 19, 2004. Scott Becker photo.
The Pennsylvania Trolley Museum's mission is to preserve and interpret Pennsylvania's trolley era, an exciting time in American history. The Museum's collection has grown to almost fifty trolley cars and 2 miles of operating trolley line. It is the strong support from the community, particularly from its volunteers, that have made this possible. During 2005 over 26,000 hours were donated to the museum by approximately 150 people from all walks of life. The museum is now involved in a dramatic and exciting expansion program. Tours of the new 28,000 sq ft Trolley Display Building are being given will greatly enhance the visitor experience and attract even more visitors. It's an exciting time to be involved and where else can you have so much fun!

As the Museum grows we now have more opportunities than ever for people to become involved utilizing their talents. Even if you have only a few hours to contribute we can certainly use your abilities!

More information about the Museum can be found on the web at www.pa-trolley.org. Reservations for the Open House are suggested by email at vsm@pa-trolley.org or by calling 724-228-9256.